PART 2: PRODUCTION
​Chapter 6
A Making-Of in The Making-Of
I cannot thank James enough for his trust. From the first time we met, he has been incredibly generous with me. Outside of the shoot, James spent time with his family in their vacation home in a town called Le Croisic, which, coincidentally, is only a 20-minute drive from my hometown, Pornichet, on the west coast of France. And so after the shoot we met up there for lunch. His main concern was not whether I was making progress on the behind-the-scenes but rather whether I had been sufficiently learning on set. He was anxious to know if I was happy at the amount of exposure I was getting to the filmmaking process, and whether I felt like I was learning interesting lessons. He would often revisit moments in the shoot, explaining what was actually going on beyond what was apparent – things I couldn't see, hidden power struggles here and there, things that he would not tell me if he didn't have a real desire to share some fundamental knowledge with me about his own work and process.

Finally, being part of the crew was incredibly enriching on a human level. Many crewmembers have become close friends and people I hope to work with again in the future. It was really inspiring to me how all these people with extremely diverse technical skill-sets conglomerated here to work on the basis of something someone had imagined– this wasn't an object being manufactured, a building being constructed, a machine being engineered – this was a story thought up in someone's mind and being realized by the sweat of many hands. As I got to know the crew members, I was struck by how diverse their backgrounds were. Roll back time 15-20 years, and where today you have an Oscar-winning actor, a bankable filmmaker and a powerful producer, you had a key-maker, a dentist and an art dealer; where today you have a production manager, a prop-master and a stunt double, you had a mountain guide, a bar-owner and a bomb-squad diver. The sense of wonder at seeing all these seemingly unrelated trajectories converge for such an intense period of time was only equal to the sadness at seeing them all diverge just as quickly afterwards to go onto other adventures.
Powered by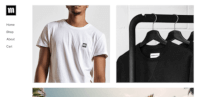 Create your own unique website with customizable templates.