Commissionned by the City of Santa Monica, "Cradle" is situated on the exterior wall of a parking structure at a shopping mall - originally designed by Frank Gehry. An aggregation of mirror polished stainless steel spheres, the sculpture functions structurally like an enormous Newton's Cradle. Each ball is suspended by a cable from a point on the wall and locked in position by a combination of gravity and neighboring balls.
"Four Arches" is an abstract monumental sculpture made by American artist Alexander Calder in 1974, and located in the Bank of America Center in downtown Los Angeles. It is made of carbon plate steel and painted a bold vermilion. This striking sculpture serves as a distinctive landmark that beautifully frames the surrounding buildings and a small nearby park area. After its installation, "Four Arches" became part of the large collection of art amassed by Security Pacific National Bank.
Powered by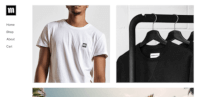 Create your own unique website with customizable templates.